Gay Columbus: The Latest
A hearing is set in the city of Chicago's effort to recover costs from actor Jussie Smollett after police said his claims of a racist and anti-gay attack were phony and staged.
Palestinian police have threatened to arrest anyone involved in a gathering planned by LGBT activists and have called on people to come forward with information about them.
Jeffrey Epstein signed a will just two days before he killed himself in jail, new court records show, opening a new legal front in what could be a long battle over the financier's fortune.
The "fundamentals" of the U.S. economy are solid, the White House asserted, invoking an ill-fated political declaration of a decade ago amid mounting concern that a recession could imperil President Donald Trump's reelection.
Drug companies are still raising prices for brand-name prescription medicines, just not as often or by as much as they used to, according to an Associated Press analysis.
Baggy Buttigieg? That is the nickname that designer Tom Ford could give Presidential candidate Pete Buttigieg (or Mayor Pete) after the candidate's team rejected his fashion advice.
Singer Elton John says he's "deeply distressed" by media accounts that criticized the Duke and Duchess of Sussex for taking a private jet to go on vacation despite the flight's carbon impact of the planet.
Carrie Underwood, who has hosted the Country Music Association Awards since 2008 with Brad Paisley, is losing her partner-in-crime.
Doctors and public health experts warn of poor health and rising costs they say will come from sweeping Trump administration changes that would deny green cards to many immigrants who use Medicaid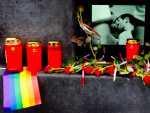 Berlin police say a central memorial to the gay victims of the Nazis has been vandalized.
Democratic presidential candidate Elizabeth Warren offered a public apology Monday to Native Americans over her past claim to tribal heritage, directly tackling an area that's proved to be her biggest political liability.
Tori Kelly's new album "Inspired by True Events" is very much an inspirational and a welcome blessing to the pop music spectrum; it shows significant promise and a skillfull use of narrative and lyrics that aspire to new heights.
The U.S. has made secret contact with Venezuela's socialist party boss as close allies of President Nicolás Maduro's inner circle seek guarantees they won't face prosecution for alleged abuses and crimes if they cede to growing demands to remove him.
Americans would rather endure such vacation travesties as lost luggage or food poisoning, rather than go without internet while on vacation.
If you're looking for deeply discounted airfare, Secret Flying aggregates hundreds of flight routes each week to make your next bucket list vacation a reality.
Uber began as a ride-hailing company, but its ambition to become the "Amazon of transportation" has pushed its leaders to experiment with bus fleets, transit and its growing food delivery business.
If you like giving restaurant recommendations, picking up new snacks in the grocery store and think introducing people to new cuisines is fun — then odds are, you're a foodie.
Breakfast, lunch and dinner at Burning Man is served with a side of playa dust that covers cars and clothing and finds its way into places where the sun doesn't shine.
These exciting new hotels are the perfect way to anchor a day-long or weekend getaway, and this autumn will showcase an array of impressive additions to a rapidly expanding hotel landscape.
EDGE was on hand for the Gay Days 2019 Kick-off Party at the Wyndham Orlando Resort.