Gay Columbus: The Latest
North Shore Music Theatre (NSMT) announced complete casting for the upcoming production of Andrew Lloyd Webber's masterwork, "Sunset Boulevard", which stars the previously announced Alice Ripley as the fading Hollywood star, Norma Desmond.
Milton Bradley was a 72-year-old World War II Navy veteran living in Savannah, Georgia, in May 1994 when he met Gary Ray Bowles, a serial killer who had already taken the lives of two men and was looking for his next victim.
Regardless of her reputation as a performer, Aretha Franklin's cancer doctors say she was no diva as a patient.
Dozens of legal briefs supporting fired funeral director Aimee Stephens at the Supreme Court use "she" and "her" to refer to the transgender woman.
Fearing they could be overwhelmed with visitors, Nevada officials drafted an emergency declaration and a plan to team resources with neighboring counties and the state ahead of events next month tied to the "Storm Area 51" internet drive.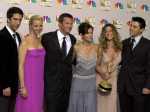 See your "Friends" on the big screen. Deck out your place with "Friends" furniture. Wear your "Friends" as jewelry. Heck, buy the "Friends" Lego set and pretend it's for your kid.
The 25th James Bond movie has a title: "No Time to Die."
Baggy Buttigieg? That is the nickname that designer Tom Ford could give Presidential candidate Pete Buttigieg (or Mayor Pete) after the candidate's team rejected his fashion advice.
Based on "Moonlight" writer Tarell Alvin McCraney's upbringing, "David Makes Man" follows teenage David, played by Akili McDowell, who tries to juggle relationships between his school friends and drug dealers in his South Florida impoverished neighborhood
Aiming to put his mark on the world map, President Donald Trump has talked to aides and allies about buying Greenland for the U.S.
An "ex-gay" march slated to take place near the site of the Pulse nightclub massacre of June 16, 2016, features two survivors of the massacre who say they are now no longer gay.
The definition of a "bloody good time," "Ready or Not" examines how far the rich will go to maintain their wealth... even at the expense of the less fortunate.
A Southern California man who smuggled $11 million worth of erectile dysfunction drugs into the U.S. from China has been sentenced to more than eight years in federal prison for conspiracy and smuggling contraband.
Twitter said Monday it has suspended more than 200,000 accounts that it believes were part of a Chinese government influence campaign targeting the protest movement in Hong Kong.
If you're looking for deeply discounted airfare, Secret Flying aggregates hundreds of flight routes each week to make your next bucket list vacation a reality.
Uber began as a ride-hailing company, but its ambition to become the "Amazon of transportation" has pushed its leaders to experiment with bus fleets, transit and its growing food delivery business.
A recent study published in the journal Depression and Anxiety has attracted widespread media attention. But the results might not be as sweet as you think.
Out actor Colton Haynes has discussed his addiction and mental health in the past but he took to Instagram this week to share photos of himself during "dark times" when he was hospitalized last year after a drug and alcohol bender.

Paris Las Vegas is rolling out special events to commemorate the hotel's 20th anniversary of its landmark arrival on the Las Vegas Strip.
EDGE was on hand for the Gay Days 2019 Kick-off Party at the Wyndham Orlando Resort.