Top Story
Susan Wojcicki, the head of YouTube, tendered her apologies to the GLBTQ community after widespread outrage following a gay journalist's documentation of what he says is haras...
The battle to contain the worst U.S. measles outbreak in 27 years has a new front: summer camp.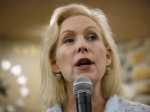 Democratic presidential candidate Kirsten Gillibrand (KEER'-sten JIHL'-uh-brand) says fellow challenger Seth Moulton has agreed to sign her cyber pledge not to use stolen or hacked material for political gain.
Russian scientists have found the furry head of an Ice Age wolf perfectly preserved in the Siberian permafrost.
O.J. Simpson launched a Twitter account with a video post in which the former football star said he's got a "little gettin' even to do."
Alarmed by President Donald Trump's willingness to accept foreign dirt on a political opponent, House Democrats are accelerating their efforts to strengthen election security ahead of the 2020 campaign.