1 thru 10 of 6541 Stories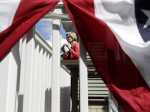 After receding from the national stage, the free college movement is resurfacing as a central rallying point for Democrats as they set their sights on the White House.
Candidates seeking to beat favorite Boris Johnson and become Britain's next prime minister warned Sunday that the Conservative Party needs a real leadership contest, not just a coronation for the flamboyant front-runner.
India's recent national election delivered a historic victory to Prime Minister Narendra Modi's Hindu nationalist party, but also exposed the influence of money, power and questionable morality on the world's largest democracy.
President Trump's latest volley of rhetoric ranges from flat-out false to mostly untrue.
It's a campaign focus this weekend on economic issues important to the black community for some of the Democratic presidential candidates.
Voting rights activists argue that newly discovered 2015 correspondence between a GOP redistricting expert and a current Census Bureau official bolster arguments that discrimination motivated efforts to add a citizenship question to the 2020 census.
None of these is legit, even though they were shared widely on social media. The Associated Press checked them out. Here are the real facts.
Liberal environmental activist and lawyer Zuzana Caputova was inaugurated Saturday as the first female president of Slovakia.
Julian Castro is the latest Democratic presidential contender to follow the trend of criticizing Fox News Channel while appearing on the network for a town hall.
The Democratic National Committee has announced the 20 candidates who met the polling or fundraising measures required to qualify for the party's first presidential debate later this month.
1 thru 10 of 6541 Stories