Gay Columbus: The Latest
The U.S. Roman Catholic Church used a special and unprecedented exemption from federal rules to amass at least $1.4 billion in taxpayer-backed coronavirus aid.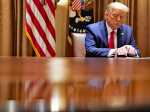 Ads like Trump's and other Republican messaging insinuate that the rare looting and violence that marred largely peaceful social justice protests are spreading.
San Francisco supervisors Thursday will take up proposed changes to how the city governs adult sex venues.
Luke Evans is quarantined, Sacha Baron Cohen pranked Rudy Giuliani, and "Killing Eve" star Jodie Comer faces a social media backlash for dating a Trump supporter. All this and more with Thursday's edition of in Short Cuts.
A man who plotted to attack last year's gay Pride parade in London in a knife and gun rampage has been jailed for at least 25 years.
Hollywood's technical expertise can awe us with monsters and imaginary worlds. But is it capable of delivering a simple screen kiss during a pandemic marked by masks and social distancing?
The queer teen drama "Chilling Adventures of Sabrina" is coming to an end. Netflix canceled the series with its upcoming fourth season, set to stream later this year, which will be its last.
Running between June 13 and 21, the nine-day festival consisted of a job fair, an open day for LGBTQ groups, three panel discussions, a Pride run and a "Rainbow Brunch."
Eichner introduced Harrison with a "Golden Girls" reference, and Harrison dissed Graham as being a "relic" of the "Old South" that's ripe for replacing as a diverse "New South" rises.
"We've definitely seen homophobic, heteronormative and racist values seep into AI," says Lesbians Who Tech Founder Leanne Pittsford. Find out how in EDGE's latest investigative feature.
The regional strongman leader of Russia's province of Chechnya on Thursday blamed unidentified foreign spy agencies for the recent killing in Austria of a Chechen man who criticized him.

No swimming pool or organic garden on the roof of the medieval Paris monument, or contemporary glass spire, or other modern twists. And to stay historically accurate, it will again be built with potentially toxic lead.
The Transportation Security Administration has improved coronavirus protection for airport screeners after a TSA official accused the agency of endangering travelers, the whistleblower's lawyer said Wednesday.
The new rule permits employers and insurers not to apply drug company copayment assistance toward enrollees' deductibles and out-of-pocket maximums for any drug.
Mercedes-Benz will recall more than 660,000 vehicles in China later this year for a possible oil leak.

Nearly seven in 10 Americans believe that the traditional grocery store run will be a thing of the past due to COVID-19, according to new research.
Dentists can't eliminate all risk, but they are taking steps to minimize the chances of spreading the coronavirus.
Chinese Foreign Ministry spokesperson Zhao Lijian said the move would target "U.S. individuals with egregious conduct related to Tibet issues" but gave no specifics.
Photos and videos of people partying, which were purportedly taken at the gaycation hotspot Fire Island in New York, went viral over the July 4th weekend.