Gay Columbus: The Latest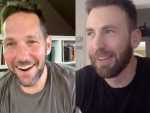 Chris Evans and Paul Rudd got together for a video chat to talk about their new streaming projects. But when the subject turned to "Ant-Man," things got personal.
"We're resilient. I do believe we'll recover," says Chicago nightclub owner and LGBTQ community advocate Mark Liberson. "It's just a matter of when. Remember, the last pandemic led into the Roaring 20s."
Brooks revolutionized the way we think about queer and trans people, rejecting cultural notions that being queer or trans is pathological, the result of a traumatic past or something negative in people's lives.
The union that represents film actors told its members Thursday not to work on the upcoming pandemic thriller "Songbird," saying the filmmakers have not been up-front about safety measures.
Asking people in English pubs to keep their distance is going to be tough after they've had a few of their favorite tipples.
"I wanted to represent all the things I happen to represent: being an Asian queer woman in a kitchen — so many people can relate to my story," says "Top Chef" winner Melissa King. Read more in our interview.
President Donald Trump will begin his Independence Day weekend on Friday with a patriotic display of fireworks at Mount Rushmore before a crowd of thousands, butthe event has drawn controversy and protests.
All leading U.S. airlines now require passengers to wear masks, but regulators have refused a request by the airlines to make it a federal rule.
The prison inmate who claims to have been Aaron Hernandez's prison lover is speaking out about their relationship, alleging the "former football star was his 'right hand man' and that they 'did everything together.'"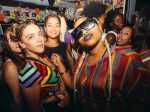 "The outpouring of love and donations on the various platforms has been incredible. But we need continued support until we reopen," says Henrietta Hudson owner Lisa Cannistraci. "I'm not going to lose the bar. I'm not going to let it happen."
Looking to flex his newfound influence among Kentucky Democrats after his Senate campaign fell just short, Charles Booker reached out Thursday to unite behind Amy McGrath's uphill fight to unseat Mitch McConnell.
Complete your weekly antiracist work by watching the poignant, inspirational documentary about the civil rights legend and Congressional conscience John Lewis.

Rapper 21 Savage will be launching a free online financial literacy education program for youth sheltered at home during the coronavirus pandemic.
A growing body of research suggests heart attacks, angina and other heart events increase during winter and summer. Now, a new study could explain why.

Some newly unemployed people are taking advantage of special enrollment periods to sign up for plans offered on the Affordable Care Act's insurance marketplaces, while others find they qualify for Medicaid.
With summer in full swing, we typically see car dealerships heavily discounting excess inventory for the Fourth of July holiday. But the novel coronavirus and its effects make this year different than most.
Watch YouTube influencer Jose Zuniga get fired up over his top tips for looking your best this summer.
Four U.S. states — Arizona, California, Florida and Texas — reported a combined 25,000 new confirmed coronavirus cases Thursday as the infection curve rose in 40 of the 50 states heading into the July Fourth holiday weekend.
As coronavirus-related restrictions are eased and temperatures climb, people are flocking back to the Jersey Shore.
"Anytime we get together as a community, it allows us to celebrate ourselves in safety with others," says DJ Nina Flowers. "I believe that space is still needed."