Gay Columbus: The Latest
Shia LaBeouf sexily broods in a short film for Rainey Qualley's "Love Me Like You Hate Me." The film also features Rainey's sister, actress Margaret Qualley in a dramatic, contemporary 'pas de deux'.
Out rapper Lil Nas X is keeping fans occupied ahead of releasing new music, which he suggested will come next month for "Nasvember." In the meantime, he's been teasing fans with snippets of music, interviews, choreography and thirst traps.
Republican claims that Democrats would expand the U.S. Supreme Court to undercut the conservative majority if they win the presidency and control of Congress has a familiar ring.
The one thing most likely to conjure nightmares of the 2016 election night for opponents of President Donald Trump is the Needle.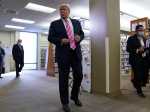 President Donald Trump said he voted Saturday "for a guy named Trump" and called it an "honor" to cast his own ballot in his adopted home state of Florida before he jetted off to campaign in three battleground states.
In honor of LGBTQ History Month in October, Orbitz has partnered with influencers and celebrities to highlight the best queer-friendly destinations and businesses in their hometowns.
LGBTQ History Month is having a much broader impact in Illinois this year, thanks to a new law that mandates the teaching of LGBTQ heritage in public schools across the state.
Should the government pay bars, many restaurants and event venues to close for the winter? Some experts say yes.
See the cringe-worthy sequence from the new "Borat" film that Rudy Giuliani calls a "hit job."
During her appearance on the podcast "Absolutely Not," Jennifer Lawrence revealed that she used to have beef with CNN's Anderson Cooper... and called him out at a Christmas party.
Earlier this month, President Donald Trump was predicting on Twitter that this election would be "the most corrupt" in American history. A day later, the head of an obscure government agency he created offered a much different message.
Netflix's "Mindhunter," the serial killer drama series starring out actor Jonathan Groff, will likely not return for a third season, says filmmaker David Fincher.
Short-video app Quibi said it is shutting down just six months after its early April launch, having struggled to find customers.
The University of Oxford says the late-stage trial of its COVID-19 vaccine in Brazil will continue following reports of a participant's death.
Facing a pandemic, record unemployment and unknown future costs for COVID-19 treatments, health insurers selling Affordable Care Act plans to individuals reacted by lowering rates in some areas and, overall, issuing only modest premium increases for 2021.
Trucks and SUVs are the de facto family vehicles. But what about the go-to family vehicle from a generation ago, the minivan? Edmunds' experts set out to determine what type of family vehicle is the most versatile.
It's that time of the year again! In case 2020 isn't scary enough for you - here are five Halloween cocktails straight out of your nightmares!
As temperatures fall, people are spending more time indoors. That heightens the risk of the coronavirus spreading, but there are some simple steps you can take to help protect yourself and everyone around you.
A solo trip to the Hudson Valley offers one writer the opportunity to ponder his queerness among cemeteries, towering sculptures and a stroll down Main Street.
Sex workers have been saying they face significant violence from police and clients for decades and it is time that we all listen to these voices when determining how to improve safety for sex workers," says an ACLU representative.