Pop Culturing is an ongoing weekly column that looks at new television, film and music and their place in the larger cultural conversation.
Despite the state of the world, 2020 has been an unbelievable year for music, with several artists putting out some of their career-defining albums.
In the weeks since its late May release, Lady Gaga's sixth album "Chromatica" has gone on to prove itself to be a powerful piece of music that's both sad and personal and one of the pop star's best efforts to date.
HBO's new miniseries "Perry Mason," based on the character created by Erle Stanley Gardner, isn't your classic courtroom drama. Thanks to a big budget, the new drama, starring Matthew Rhys, feels like it has little to do with its source material.
A look at some of the very best TV shows to debut in 2020.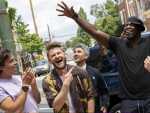 "Queer Eye" returns for its fifth season on Netflix Friday, solidifying itself as some of the best comfort-TV around.
The second season of Amazon's conspiracy thriller "Homecoming," which finds Janelle Monáe taking the reins from Julia Roberts, is solid but it should have been its own story rather than a continuation of what came before it.
Charli XCX has been at the forefront of pop music over the last decade and with "How I'm Feeling Now," a quickly-made album created entirely in quarantine with a madcap collection of Internet musicians and input from fans, Charli goes to the next level.
"The Eddy," hitting Netflix Friday, finds Oscar-winning director Damien Chazelle helming the first two episodes of this family drama/murder mystery set within Paris's jazz scene.
Blending fact and fiction, Ryan Murphy rewrites movie history with his glitzy and lavish limited series "Hollywood," coming to Netflix on May 1.
"Penny Dreadful: City of Angels," hitting Showtime on April 26, trades the Victorian Gothic fiction of its predecessor for pre-World War II hardboiled noir and Mexican folklore with varying results.