New variants can emerge as long as the virus that caused the pandemic keeps infecting people. But that doesn't mean new variants will keep emerging as regularly, or that they'll be more dangerous.
Millions more Americans just became eligible for COVID-19 boosters but figuring out who's eligible and when can be confusing.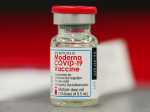 U.S. regulators signed off on extending COVID-19 boosters to Americans who got the Moderna or J&J vaccine, saying anyone eligible for an extra dose can get a brand different from the one they received initially.
U.S. health advisers said Thursday that some Americans who received Moderna's COVID-19 vaccine at least six months ago should get a half-dose booster.
What's the latest advice on the type of mask I should wear? It depends on your situation, but health officials say it should cover your nose and mouth, and fit snugly.
"We don't yet have full understanding of what the presence of antibodies tells us about immunity," says one infectious diseases expert.
Yes, you can get the shots in the same visit. Staying up to date on all vaccinations will be especially important this year, experts say.
Johnson & Johnson has asked U.S. regulators to allow booster shots of its COVID-19 vaccine as the U.S. government moves toward shoring up protection in more vaccinated Americans.
Drugmaker Merck said Friday that its experimental COVID-19 pill reduced hospitalizations and deaths by half in people recently infected with the coronavirus.
Yes, people who got a two-dose vaccine or the single-dose Johnson & Johnson shot are considered fully vaccinated — even without a booster.