Watch: 'Queer Eye' Star Jonathan Van Ness Opens Up About HIV Stigma on 'Jimmy Kimmel Live'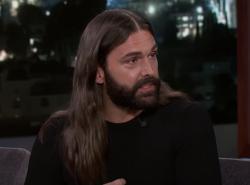 "Queer Eye" star Jonathan Van Ness stopped by "Jimmy Kimmel Live" and opened up about HIV stigma, just weeks after revealing that he is HIV-positive.

Promoting his new memoir, Van Ness talked to Kimmel about the obstacles he faces after learning he is HIV (his status is undetectable), specifically the Trump administration's moves the hurt people with HIV, including defunding for Planned Parenthood — the place where JVN learned of his status.

"As I've witnessed this kind of demonization of people who dare to be pregnant or engage in sex from Planned Parenthood — I really need to speak about this," he said.

He also talked about when he first was diagnosed with HIV at age 25, before he was on "Queer Eye" and had the platform that he has now.

"I did not have access finically that I have now and the amount of hoops I had to jump through...there was like four or five or six layers of social safety net that I had to navigate as a 25-year-old and it's just not appropriate," the reality star said. "People who are finding out that they are HIV-positive need a doctor and medication."

"People living with HIV maintain their undetectable viral load," he added.

Elsewhere, JVN discussed meeting with Nancy Pelosi about the Equality Act, support for Elizabeth Warren, and much more. Watch the clip below.
Comments on Facebook