Review: "The Painter and the Thief" is a Captivating Blend of Suspense and Tenderness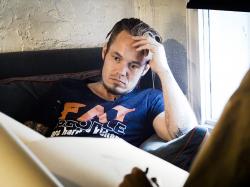 When two paintings by Barbora Kysilkova, a Czech painter an immigrant to Norway, were stolen from an Oslo gallery — the canvases carefully removed from their frames rather than simply slashed free with a knife — it meant a significant financial hit.

But rather than bitterness or blame, Barbora chose to look at one of the perpetrators, approaching him in court and striking up a conversation. That chat became a series of modeling sessions, and under the scrutiny of the artist's eye the thief — Karl-Bertil Nordland — began to open up.

Somehow — it's not explained how — filmmaker Benjamin Ree entered the picture and began to document the growing friendship of the two. His film, "The Panter and the Thief," follows both subjects into their most painful personal lives. The film plumbs Barbora's history as a battered girlfriend (she and her husband had to leave Berlin — to "flee," as her husband puts it — for fear of her abusive ex) and delves into the corners of her psyche where dark obsessions dwell.

Karl-Bertil is similarly illuminated. We know right away that he's a junkie because he says as much, telling Barbora at the start that he has little recollection of the time when he stole her work. (He divulges that he had been "awake for four days" when the crime took place, and explains with perplexing, if unimpeachable, logic that he stole her paintings because "they're beautiful." Responds Barbora: "I should take this as a compliment.") While the mystery of what happened to the missing canvases lingers, the relationship — and the people in it — gradually becomes less shadowy, and more profound.

This is a film about choices, losses, and reunions. As Barbora and Karl-Bertil work together, they exert an undeniable influence over one another; shown a portrait of himself for the first time — a luminous, nearly photo-realistic image — Karl-Bertil stares, dumbfounded, before starting to sob. For her part, Barbora sticks by Karl-Bertil even when he relapses into drug use and, at one point, steals a car, only to crash the vehicle, break his back, and shatter his pelvis. She's there for him through an arduous recovery process, and Karl-Bertil believes she will be there for his during a subsequent yearlong prison sentence, as well. But still more twists lie in wait...

A captivating blend of suspense and tenderness, "The Painter and the Thief" is about the mysteries of creation and connection, and the mysteries of the human condition. It will shake your certainties and challenge your preconceptions; isn't that the highest function of art?
Kilian Melloy serves as EDGE Media Network's Associate Arts Editor and Staff Contributor. His professional memberships include the National Lesbian & Gay Journalists Association, the Boston Online Film Critics Association, The Gay and Lesbian Entertainment Critics Association, and the Boston Theater Critics Association's Elliot Norton Awards Committee.
Comments on Facebook