Top Story
Glory holes are celebrated in João Dall'Stella's cheeky 3-minute video "Stalls." EDGE spoke to the filmmaker about the short.
"No Escape" mixes the director's own "Escape Room" with "Hostel" to suspenseful, but mixed, results.
This Chilean drama from first time filmmaker Nicol Ruiz Benavides is a joyous tale about it never being too late for self-discovery and personal freedom.
Presidential photographer Pete Souza shares remarkable Obama images, and coaches Americans to throw shade, then vote.
Extraordinary performances and dread-inducing direction highlight this masterful work by Sean Durkin, returning for his sophomore feature nearly a decade after his first, "Martha Marcy May Marlene."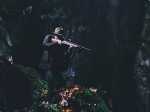 This film doesn't rewrite the thriller genre in any way whatsoever, but it does give us a squirm-inducing, teeth clenched ride through Hell.