Top Story
The National Museum in Prague has put on display the most visible symbol of the Czech Republic's response to the coronavirus - face masks.
1 thru 10 of 15579 Stories
For some same-sex couples, justice delayed was justice denied when one spouse died less than nine months after legal marriage became available. A court ruling has corrected that.
Contrary to what anti-LGBTQ extremists claimed before marriage equality became the law of the land in 2015, marriage equality has been good for the institution - and for the economy.
EVO3 CBD Oils has demystified a rapidly evolving industry with high-quality, lab-tested products that can be traced to the source.
The coronavirus pandemic has created a staggering child care crisis that threatens to undermine the reopening of the U.S. economy.
Some victims of childhood sex abuse who are considering suing the Boy Scouts of America face a choice.
I am tired of how routine violence against African Americans at the hands of white people continues to be, and angry that I must explain again and again how dehumanizing this all is.
Some are questioning whether tough police tactics against demonstrators are actually making the violence worse rather than quelling it.
"Very disturbing actions by a truck driver on I-35W, inciting a crowd of peaceful demonstrators," the state patrol tweeted.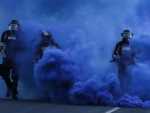 "After shouting press multiple times and raising my press card in the air, I was thrown to the ground. Then another cop came up and peppered sprayed me in the face while I was being held down."
Tens of thousands of protesters took to the streets across America again Sunday, with peaceful demonstrations against police killings of black people overshadowed by unrest.
1 thru 10 of 15579 Stories