1 thru 10 of 4848 Stories
Chick-fil-A said it no longer plans to open a restaurant in the San Antonio airport.
The Great Recession demolished jobs across the U.S., and it eventually came for mine, too. After graduating in 2009, I worked four months as an entry-level executive assistant at a nonprofit before being laid off.
If the pandemic caused you to relocate across state lines, even temporarily, the next surprise could be having to file an extra tax return and potentially pay more taxes.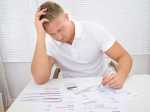 In a crisis, long-term planning may lose out to quick and dirty solutions — regardless of the consequences. Before you hit a moment of crisis decision-making, understand how to think through debt relief options.
Starting Social Security early typically means getting a smaller benefit for the rest of your life. The penalty is steep: Someone who applies this year at age 62 would see their monthly benefit check reduced by nearly 30%.
With the government showing no sign of changing course, there are real concerns that ongoing talks on a future trade deal between the U.K. and the EU could collapse within weeks.
If you've managed to end up with extra money during the pandemic, here's how to take advantage of those savings.
The U.S. budget deficit hit an all-time high of $3 trillion for the first 11 months of this budget year, the Treasury Department said Friday.
Rage, the iconic dance club in West Hollywood, Calif., has become a causality of the COVID-19 pandemic, having recently closed its doors permanently.
The U.S. government's war against the coronavirus is imposing the heaviest strain on the Treasury since America's drive to defeat Nazi Germany and imperial Japan three-quarters of a century ago.
1 thru 10 of 4848 Stories