Top Story
Floridians and others around the world are remembering the three-year anniversary of a massacre at a gay nightclub on Latin night that left 49 people dead.
1 thru 10 of 48357 Stories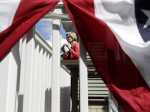 After receding from the national stage, the free college movement is resurfacing as a central rallying point for Democrats as they set their sights on the White House.
A former Southern Baptist pastor who supported legislation in Texas this year that would have criminalized abortions has been arrested on charges of child sex abuse.
The Los Angeles Police Department is gathering evidence and video footage in an administrative investigation into an off-duty officer who shot and killed a man who authorities say attacked him inside a Costco Wholesale warehouse store.
Candidates seeking to beat favorite Boris Johnson and become Britain's next prime minister warned Sunday that the Conservative Party needs a real leadership contest, not just a coronation for the flamboyant front-runner.
Prince Harry and Meghan, the Duchess of Sussex have released a photograph of their 6-week-old son Archie for Father's Day.
A swastika has been found in a Jackson County cemetery where World War II soldiers are buried.
Democratic presidential candidate Pete Buttigieg (BOO'-tuh-juhj) wants to start a family with his husband, Chasten, and says that could happen if he's in the White House.
India's recent national election delivered a historic victory to Prime Minister Narendra Modi's Hindu nationalist party, but also exposed the influence of money, power and questionable morality on the world's largest democracy.
President Trump's latest volley of rhetoric ranges from flat-out false to mostly untrue.
An off-duty police officer opened fire inside a Costco Wholesale warehouse store, killing a man who had attacked him and wounding two others, the Corona Police Department said.
1 thru 10 of 48357 Stories