South Florida Gay News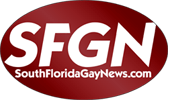 The South Florida Gay News.com celebrates the lives of South Floridians with daily news briefs and storied features, breaking news and lifestyle profiles. Check out their website at southfloridagaynews.com.
The survey that revealed nearly half of district leaders support teachers coming out also showed a divide on transgender restroom use among students.
Catholic organization New Ways Ministry released a rebuttal to claims parents should reject their transgender children.
Liam Davis is spilling the details of a big surprise. The openly gay English soccer player told The Telegraph he heard about a group of players coming out as gay in one big announcement.
In a 9-2 vote, British Overseas Territory St Helena's legislative council voted in favor of same-sex marriage. Weddings could happen within weeks.
A woman in Tasmania, Australia got retroactively billed for $5,000 in taxes after the country did not recognize her marriage.
An international human rights group is asking Japan to not require transgender people to be sterilized.
A survey by Educator Political Perceptions found that 47 percent of K-12 teachers, school employees and district leaders would "completely support" LGB teachers from coming out ot their students.
The United States Conference of Catholic Bishops released an open letter demonizing transgender children and rejecting their identities as a "false idea."
Lawyer Mark Phariss was one of four people who sued the state in 2014 after it declared same-sex marriage unconstitutional in 2013, according to PinkNews. He now will run for a Texas senate seat in the 8th district.
On Dec. 20, Arianna Lint, transgender activist and founder of TransLatina Coalition, was attacked in her Fort Lauderdale home by an unknown assailant.