PopUps: Netflix Renews Christina Applegate Dramedy 'Dead to Me'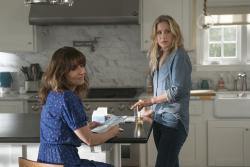 Good news for fans of the Netflix dramedy "Dead to Me"!

The streaming service announced this week that it is renewing the show, starring Christina Applegate and Linda Cardellini, for a second season.

The announcement came during a panel with the cast along with "Dead to Me" creator Liz Feldman. Both Applegate and Cardellini will be returning for Season 2.

Feldman teased the idea for the return to "Dead to Me" when speaking with Entertainment Weekly recently.

"It will be about the further exploration of this friendship, and relationship, and now very complicated dynamic, or even more complicated dynamic between these two women," Feldman said at the time. "What I wanted to do was create a situation where they're forced together, and they need each other now in some ways more than they did at the beginning of Season 1."

"Dead to Me" is twist-heavy but it follows two women who become friends while attending a support group for those who are mourning the sudden loss of loved ones.

Click here to check out EDGE's coverage of "Dead to Me" and revisit the trailer below.




This story is part of our special report titled "PopUps." Want to read more? Here's the full list.
Comments on Facebook