Pop Culturing: Not Even RuPaul can Save 'Grace and Frankie' Season 5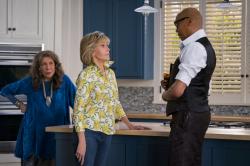 Entering its fifth season Friday, Netflix's (probably) popular comedy "Grace and Frankie" is showing no signs of stopping.
There's no secret the streaming service is after every corner of the entertainment industry. From standup specials to food competition programs, reality lifestyle shows, anime, prestigious films poised to dominate awards seasons and beyond, Netflix is here to conquer take over.
At the 76th Golden Globe Awards last week, the company's little talked about comedy "The Kominsky Method," starring Michael Douglas and Alan Arkin, won two out of its five nominations, including Best Television Series — Musical or Comedy and Best Actor — Television Series Musical or Comedy (Douglas). It was a strange moment, considering it was up against lauded programs like "Atlanta" and "The Marvelous Mrs. Maisel." But its win shouldn't be all too surprising; "The Kominsky Method" is for a specific audience — the kind of audience the Hollywood Foreign Press (the group of about 90 members that decides the winners of the Golden Globes) consists of.
"Grace and Frankie" has received a number of nominations at the Primetime Emmy Awards since it debuted in 2015. Over that time, it's developed a strong fanbase — since Netflix doesn't release its data and viewership numbers, it's incredibly difficult to pinpoint how popular the show actually is (the program's official Facebook page has 500,000 followers while its Twitter account has nearly 64,000) but, anecdotally, it seems to be discussed by older audiences and gay men. "The Kominsky Method," about "an aging actor, who long ago enjoyed a brush with fame, makes his living as an acting coach," is another show Netflix is churning out to capture an older and underserved audience. In a piece for The Guardian, Louis Wise writes:
At the start of 2019, we can tentatively say that the streaming service's appeal to older viewers is bearing fruit. It must be pointed out that Netflix's general aim seems to be to appeal to absolutely everyone, but those golden oldies are a premium target. They have a lot of time and money. It's almost surprising there isn't a deluge of Poirot reruns on the home screen, but it seems to have decided to approach the situation with care...In short, only a fool would bet against more of this content creeping in, among the cutesy teen comedies, woke dramas and shock documentaries. Netflix and dyspepsia pill?
Jane Fonda, left, and Lily Tomlin in a scene from "Grace and Frankie." Photo credit: Ali Goldstein / Netflix
Netflix isn't stopping there — just a week ago it dropped "The Last Laugh," a film starring Richard Dreyfuss, Chevy Chase, and Andie MacDowell. The comedy is about a "former stand-up comedian who retired from the spotlight 50 years ago reunites with his former manager."
And Netflix flexed again this week, announcing "Grace and Frankie" will return for a sixth season in 2020, just days before Season 5 bowed on the streaming service.
"Grace and Frankie," is now Netflix's bread and butter. At this point, it's one of the streaming service's oldest shows now that "House of Cards" has ended and "Orange is the New Black" is on its way out. In its fifth season "Grace and Frankie" continues to pander to its audience, doling out 13 comfortable and fully episodes of empty TV calories. Like its past four seasons, the beloved show has nothing new to say, frustratingly refuses to push the envelope, wastes its talented cast and even seems reductive at times, playing into stereotypes, despite aiming to be progressive. (Grace and Frankie running a vibrator business for older women suffering from arthritis isn't really cutting it anymore, especially when that plot is hardly featured anymore). And not even RuPaul, who guest stars on the show for two episodes, can save "Grace and Frankie" from its mind-numbing mediocrity.
Season 5 picks up right where Season 4 ended. Grace (the excellent Jane Fonda) and Frankie (the excellent Lily Tomlin) have just busted out of their nursing home to return to their beach house to discover it has been sold by their kids. That won't stop the dynamic duo though — they decide to break in and squat there. But they're up against RuPaul, who plays the assistant of a big celebrity who purchased the house as a getaway, and he isn't here to play their games.
Martin Sheen, right, in a scene from "Grace and Frankie." Photo credit: Ali Goldstein / Netflix
The rest of the disjointed season continues to retread old turf — Grace and Frankie's ex-husbands, Robert (Martin Sheen) and Sol (Sam Waterston), who are now married to each other, sort through what it means to be older gay married men. That could be incredibly rich and fascinating, but the writers of "Grace and Frankie" do nothing with exploring that concept; instead the couple help friends whose relationship is on the rocks due to their open relationships (a plot line that feels like it was written by straight people); befriend a young neighbor who suddenly comes out as gay (despite being married to a woman (his sexuality was teased in Season 4); and adopting a dog. Of course, Robert has more drama with his local theater troupe — perhaps the most unbearable part of "Grace and Frankie."
Not much is different for Grace and Frankie either. Their relationship goes through its trials and tribulations as things develop with Grace's love interest, the wealthy Nick (Peter Gallagher). And, of course, just like in past seasons, Grace and Frankie deal with their eccentric kids. Nevertheless, Fonda and Tomlin, who, at age 81 and 79 respectively, are experts in physical comedy. Especially Fonda, who, in one episode which shows what life would be like if the duo never lived together, has an incredible physical transformation that won't be spoiled here.
Your mileage of "Grace and Frankie" will depend on what you're looking for out of a show. But at this stage, "Grace and Frankie" knows what kind it is and plans to stick around for a while.

This story is part of our special report titled "Pop Culturing." Want to read more? Here's the full list.
Comments on Facebook