1 thru 10 of 3395 Stories
Taylor Swift made a surprise performance at an iconic gay bar a day after releasing a song supporting the LGBTQ community.
Taylor Swift's latest song has a new target: homophobes.
Missy Elliot became the first female rapper inducted into the Songwriters Hall of Fame.
DC natives Lionize opened a packed show for with Wolfmother all the way from Australia for this East Coast tour show at the 9:30 Club.
Kevin McHale, of "Glee" fame, released a new music video with "Pose" star Johnny Sibilly. The song, "James Dean" will feature on his upcoming EP, "Boy," and features a steamy shower scene with Sibilly.
When Jacomo Bairos comes to Boston's Symphony Hall this week, he's fulfilling a childhood dream: to play with the Boston Pops. EDGE spoke with Bairos about the concert, where he joins travel expert Rick Steves on a musical journey of 19th century Europe.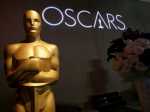 The Oscars will be headed back to late February after next year's show.
Madonna is sharing a new music video for her song "Dark Ballet" off her forthcoming album "Madame X."
Jane Lynch is best-known for her Emmy-winning turn on "Glee," but another side of her talents can be seen and heard on June 11 & 12 when she appears with Keith Lockhart & the Boston Pops. EDGE spoke to Lynch about her upcoming gig.
Madonna took to Instagram to rebuke a New York Times feature on her which she said made her "feel raped."
1 thru 10 of 3395 Stories