1 thru 10 of 3244 Stories
J'Nai Bridges was just 24 and still in school when she sang her first "Carmen" as a young artist at the Glimmerglass Festival in 2011. "I was, oh, way too young," she recalls with a laugh. "It felt good back then, but it just fits like a glove now."
Multiple outlets have reported that Sony Music has dropped embattled R&B star R. Kelly from its roster.
Some people get lots of invitations. James Blake gets the right ones.
Album of the year nominees Cardi B, Kacey Musgraves, Janelle Monae and Post Malone will perform at next month's Grammy Awards.
Gladys Knight will sing "The Star-Spangled Banner" at this year's Super Bowl.
Out singer Troye Sivan and singer-songwriter Lauv are teaming up for a new single called "I'm So Tired."
For decades, Jackie Shane was a musical mystery: a riveting black transgender soul singer who packed out nightclubs in Toronto in the 1960s, but then disappeared after 1971.
Musical political satirist Randy Rainbow is back in the faux interviewer's chair with a video that mashes a real news clip of the vice president together with one of Rainbow's signature show tune satires.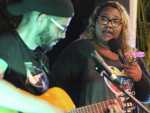 Reymar Perdomo combines her street performances with appearances at concerts and on TV programs, and her song has become the unofficial anthem of Venezuelans who have fled their country's economic implosion.
Alicia Keys usually attends the Grammys, but this year she'll be there as a host.
1 thru 10 of 3244 Stories