1 thru 10 of 7435 Stories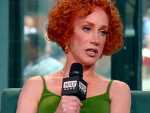 As if fallings out and feuds with CNN's silver fox and the president of the United States weren't enough, Griffin is also on the outs with lesbian comic Ellen DeGeneres. Griffin chatted about those feuds on "Good Day New York."
Broadway legend Patti LuPone took to Twitter Thursday to call out Republican Sen. Lindsey Graham and his sexual orientation.
Jerry Seinfeld would rather cruise in classic cars and sip coffee with comedy's best than reboot his uber-successful "Seinfeld" television series.
A-list celebrities seem to be opening their hearts — or at least their wallets — to Pete Buttigieg.
Kevin Spacey's legal woes are not over, despite the collapse of the only criminal case brought against the two-time Oscar winner since he became mired in sexual misconduct allegations.
Gigi Gorgeous and Nats Getty shared a blissful day at the beach after their spectacular wedding at the Rosewood Miramar Beach in Montecito, CA on Friday.
If this basketball thing doesn't work out for Brad Stevens, he already has a backup plan in mind.
Prosecutors dropped a case accusing Kevin Spacey of groping a young man at a resort island bar in 2016.
Soccer star Cristiano Ronaldo is showing off his body in a new campaign for his underwear brand CR7.
An Australian model was sentenced Monday in Los Angeles to community service and probation for slapping a flight attendant and going on an obscene tirade during a flight, with a federal judge saying he believed she was deeply remorseful.
1 thru 10 of 7435 Stories