Top Story
When Jacomo Bairos comes to Boston's Symphony Hall this week, he's fulfilling a childhood dream: to play with the Boston Pops. EDGE spoke with Bairos about the concert, w...
"Men in Black: International" is the No. 1 movie in North America this weekend but the Tessa Thompson and Chris Hemsworth-led reboot isn't exactly a franchise-revitalizing hit.
When Ramin escapes Iran where is persecuted for being gay, he ends up in Veracruz — where he still feels he cannot be himself.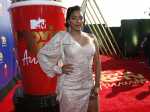 Actress and comedian Tiffany Haddish has canceled her upcoming Atlanta performance because of Georgia's new restrictive abortion law.
Taylor Swift made a surprise performance at an iconic gay bar a day after releasing a song supporting the LGBTQ community.
The cult comedy "Napoleon Dynamite" turns 15 years old this month, a milestone for a movie that became an early breakaway hit in today's era of pop-culture geek celebration.