1 thru 10 of 6325 Stories
The fast-growing market for meat alternatives has a surprising new player: Tyson Foods.
The cast of Fox & Friends showed their support for the Texas "Save Chick-fil-A" Bill Wednesday with a segment catered by Chick-fil-A.
Nursing facilities have failed to report thousands of serious cases of potential neglect and abuse of seniors on Medicare even though it's a federal requirement for them to do so, according to a watchdog report.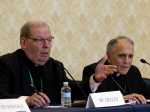 U.S. Catholic bishops voted Wednesday to create a new national sex-abuse hotline run by an independent entity, a decision that represents one of the church's most tangible steps yet in confronting its sex-abuse crisis.
Acosta writes that there are not two sides to a story when it is a matter of right and wrong. But he said he had no problem telling Trump, in one encounter, "Mr. President, there are no fine people in the Nazis."
Texas Governor Greg Abbott has signed a "Save Chick-fil-A" bill that critics argue will allow the company to continue its donation to anti-LGBT causes.
Texas health officials said Tuesday there are no "suspected or confirmed cases" of Ebola in the state as social media posts have falsely suggested in the wake of immigrants arriving from Africa.
Illegal pot shops are widespread throughout Los Angeles and typically look like the real thing. And they're thriving — they sell cheaper products than their legal rivals because they don't charge hefty state and local taxes.
Research has revealed just how much people's travel preferences could shift, and found a new potential challenge to the airline industry.
Starbucks and environmental charity Hubbub are launching a trial program to lend passengers at Britain's Gatwick Airport reusable cups while waiting for their flights in hopes of cutting down on waste.
1 thru 10 of 6325 Stories