Top Story
When states legalize pot for all adults, long-standing medical marijuana programs take a big hit, in some cases losing more than half their registered patients in just a few years,...
1 thru 10 of 12845 Stories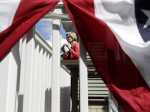 After receding from the national stage, the free college movement is resurfacing as a central rallying point for Democrats as they set their sights on the White House.
New Mexico's film industry appears to be on the brink of a boom thanks to abortion law controversies in other states and expanded incentives.
The Trump administration is facing growing complaints from migrants about severe overcrowding, meager food and other hardships at border holding centers.
Treasury Secretary Steven Mnuchin on Friday called "completely erroneous" a published report that an initial 2020 deadline for completing the design of a $20 bill featuring Harriett Tubman could have been met.
Unlike other farmers, vegetable grower Andrew Dunham won't get a piece of a $16 billion aid package to offset his losses and he can't fall back on federally subsidized crop insurance.
About 1,500 people in Moscow have demonstrated against police abuse of power in the wake of a prominent Russian journalist's arrest on drug-dealing charges that the government admitted days later had no basis.
A unit of wheat is called a bushel, and a standard weight of potatoes is called a century. But hemp as a fully legal U.S. agricultural commodity is so new that a unit of hemp seed doesn't yet have a universal name or an agreed-upon quantity.
Visitors on Friday were given one last chance to admire a 400-year-old painting found in an attic in southern France and attributed to Italian master Caravaggio, or raise questions about the work, before it goes on the auction block.
The U.S. Bureau of Land Management is recommending attendance be capped at existing levels for the next 10 years at the annual Burning Man counter-culture festival in the desert 100 miles (160 kilometers) north of Reno.
Virginia Attorney General Mark Herring is calling for the legalization of marijuana. The Democratic attorney general said criminal prosecutions are costly to the state and local governments and disproportionately affect African Americans.
1 thru 10 of 12845 Stories